I resisted at first, trying to stick to one project at a time, then I realized I have the perfect project for...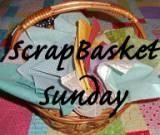 The idea of Scrap Basket Sunday is to work on my scrappy lemoyne star blocks once a week (or thereabouts). If I was to work singlemindedly on these blocks, I'd probably get bored after making 10 or 20, and I need about 100 for the quilt. But interspersing them with other projects will keep the novelty going longer, at least that's my theory. Of course, it does postpone the finish, but since I don't know yet how I will set the finished blocks into a quilt, that's ok with me.
This will be my fabric palette for the lemoyne stars. I have lots of partial fat quarters and other bits and pieces in my Fig Tree Collection basket, pieces left from peviously made quilts.
It's time for a test block.
If you would like to join us for Scrap Basket Sundays, go see
Kim
.